Create a Seamless User Experience
With an Outlook add-in, you'll have the same user experience for submitting a time-off request as in UKG Dimensions, but you'll be able to do it from your primary email application with a couple of clicks.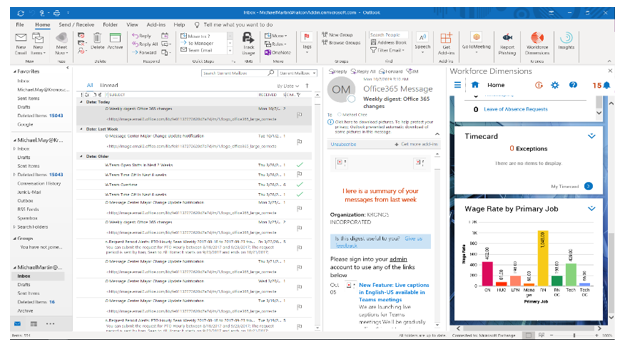 Gain Full Access to the UKG Dimensions Platform
Now you'll have access to your entire UKG Dimensions experience right from within Outlook. Whatever the tile configuration on your homepage, it's the same setup that appears in Outlook. You can see data views in real time or manage notifications, such as leave or exceptions, right from within the application — and then get back to work.
Build Engagement: Simplify Manager Actions
Equally important is management's ability to review and approve the time-off request, which can also be done from the same add-in. Less time navigating between applications equals more time that your managers can spend with employees and customers and driving business objectives