Instant Access to 100% of Current Pay Period Earnings
Employees can access 100% of their net earnings 24/7 without any restrictions on transfers, resulting in the highest user engagement across any platform. Through mobile API technology and artificial intelligence, we seamlessly integrate with your payroll and time and attendance systems, like UKG Dimensions, to receive your employees' daily hours worked. Then we calculate an available balance for each individual employee, based on historical payroll data and our dynamic income algorithm that continually monitors changes to each employee's earnings, taxes and deductions. Our solution enables employees to access all of their earnings, minus taxes and any deductions/garnishments, prior to payday; they can request an instant or next-day transfer of these earnings via our mobile-optimized website or smartphone app for the lowest fees in the industry.
Three Ways to Save
DailyPay offers three unique ways for employees to save money in their own individual savings accounts using the Save feature.
AutoSave
For an employee who has regular hours and expects the same amount of pay in each paycheck. Through AutoSave, the employee can "set it and forget it" and build a savings safety net with regularly scheduled savings.
DirectSave
For employees who have unpredictable hours and rely on picking up shifts as they become available. This allows employees to save different amounts each pay period depending on their current earnings.
RoundupSave
Allows employees to "save as they spend" by allotting a certain amount of their earnings to savings when they request a Pay transfer prior to payday.
DailyPay Funds All On-Demand Pay Transfers
DailyPay funds all on-demand pay transfers; the employer simply processes payroll as usual. Employees will always receive 100% of their pay on payday and DailyPay is repaid for any early transfers made to employees when the employer runs their usual payroll process (DailyPay does not use repayment methods such as deduction or account debiting that put your employees at risk). If the employer were to fund on-demand requests for payment, the IRS could view this as "payroll" (constructive receipt) and require the remittance of all applicable withholding tax amounts on the day a transfer is made. This is highly disruptive and burdensome to your tax-withholding schedule; it complicates your current payroll process and it's a drain on your operating capital.
Access for Any User, On Any Device
DailyPay can transfer earnings to any bank account, any payroll card or any prepaid card. There is no requirement for a special or new pay card, which saves you hundreds of hours of work. The DailyPay app is available in all 50 states, on all devices, and comes with full bilingual support to ensure your company can maximize the benefits of implementing the program.
Simple and Transparent Interface for Employees
DailyPay was purposefully designed to be simple and transparent. That's why our adoption rates are so high! The DailyPay user experience is very much like an ATM for your employees' earnings. As employees work throughout the week, their earnings balance available for transfer increases. With a tap of a button, employees can transfer all or only a portion of their earnings.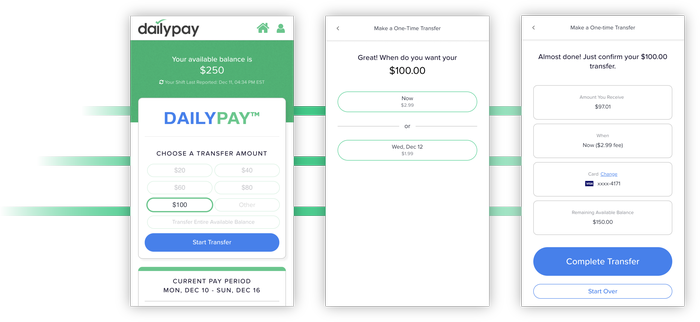 Dedicated Professionals to Help You
Our Enterprise Partnership Management team will work with your Human Resources department to tailor our 360 Launch Strategy specifically for your business to maximize employee enrollment in the program. You'll also receive a dedicated Partnership Manager who functions as a program advisor and who will continue to work side-by-side with you as your DailyPay benefit program grows. We have successfully executed programs for companies with distributed workforces, multiple locations, field employees and non-English speaking employees.
Implementation and Rollout Planning
DailyPay provides the resources you need to ensure a successful launch.
Manager Training:
You'll receive customized live webinar sessions for managers, recruiters, HR reps and more.
Online Partner Portal:
Rollout calendars, FAQs, manager scripts, new hire forms, partnership digital badge, announcement email templates and more.
Printed Collateral:
Posters, brochures, benefit cards and swag.
Custom Reporting
DailyPay provides you with custom reporting so you can validate the impact of the DailyPay benefit on your employees — internally to all levels of senior management and to your Board of Directors.
Custom Reporting Benefits
Gauge value through improved employee retention and engagement and reduced turnover costs
Predictive analytics to improve business operations
Identify HCM efficiencies