Beekeeper Digital Workplace Platform
UKG Pro™ Integration
Our seamless integration offers the ability to automatically onboard all employees from UKG Pro on to Beekeeper, ensuring your employee roster is always up to date and reducing manual entry and errors.
Integrated Employee Communication
Beekeeper partners with UKG to provide a communication app that brings employees together with the information and resources they need to get work done as effortlessly and intelligently as possible.
Simply share information across teams, broadcast announcements, or communicate with employees privately.
With this integration, you can ensure security, easily manage employee access, and prohibit former employees from seeing sensitive, confidential information.
With UKG Pro and Beekeeper, leaders can manage the entire workforce, all from one place, and get everyone on the same page to drive more consistent operations at the frontline.
With Beekeeper you can:
Provide frontline workers with an easy-to-use platform that covers their daily workflows and optimizes performance
Connect and align every department to help each employee reach their full potential and elevate company culture
Help frontline teams access information fast with flexible navigation extensions and automated workflows
Track who has received or read messages to ensure the right people are getting the information they need, when they need it
Access engagement and activation data through the Admin Dashboard to get better insight and uncover trends that guide operational improvements
UKG Dimensions & Ready Integration
Beekeeper application provides end-user with the means to check/observe their own working schedule on the mobile device and be notified upon schedule change. In order to achieve this, the Beekeeper back-end system shall be updated with the users' schedules from UKG Dimensions and UKG Ready. The integration provides means for the snapshot-based batch schedule synchronization from UKG Dimensions and UKG Ready to Beekeeper application. The solution is a one-way integration from UKG Dimensions and UKG Ready to Beekeeper and supports up to 4000 users and performs synchronization in configurable intervals.
Shift Schedules from UKG
Give every single employee access to their most up-to-date schedule from UKG, personalized to them and delivered straight to their pocket via Beekeeper.
Reduce absenteeism
Increase productivity and reduce costs by covering every shift through push notifications with the right shift information
Reduce unintentional absenteeism to maintain your high quality standards
Always have the latest schedule
Own your work time - check your schedule from anywhere at any time on Beekeeper
Trust that the schedule in Beekeeper is up-to-date with Beekeeper's real-time shift integrations with UKG Dimensions and Ready
Communicate easily with your Shift Manager
Send a message to your Shift Manager from the same platform on which you check your schedule
Reduce back-and-forth: all communication around schedules happens on Beekeeper
Communication Streams
Streams are predefined communication channels where colleagues can share information and engage with specific teams or the entire organization.
Distribute company news
Distribute news, updates, and protocols through labeled, easy-to-search channels
Customize user access
Make sure users see the most relevant content by customizing access based on team or role
Motivate employees
Foster recognition by celebrating achievements and tagging team members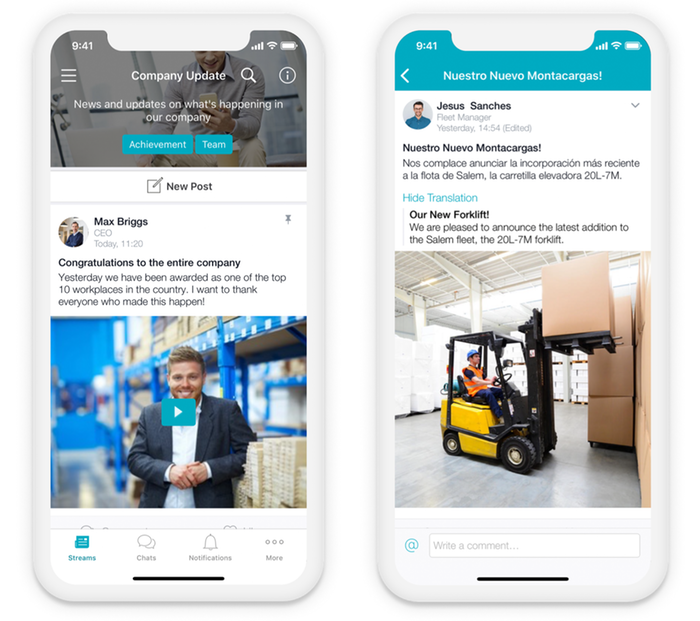 Secure Team Messaging
Work better together with organized team communication channels. Learn how instant messaging for business transforms the customer experience.
Instant team communication
Send 1:1 or group messages without exchanging emails or phone numbers
Centralize and distribute files
Easily store and share documents, links, and pictures
Increase workforce productivity
Improve operational communication and shorten response times
Confirmation Campaigns
Real-time read confirmations ensure everyone is informed and held accountable for viewing critical communications.
Make sure your message hits home
Verify safety and regulatory information is viewed by requesting receipt confirmation
Segment and personalize messages
Send your campaign to specific groups and personalize it with the recipient's name
Save time following up
Easily identify and follow up with those who haven't responded
Digital Forms
Allow your frontline team members to submit forms on mobile for more efficient, paper-free workflows. Send form submissions to relevant teams, download results in a spreadsheet, or send submissions out to a third party system.
Create Custom Forms
Move your paper forms into Beekeeper and share them with teams on mobile.
Build Automated Workflows
Share form submissions with relevant teams in Beekeeper, collect them in a spreadsheet, or share them out to third party tools.
Make Forms Available Anywhere
Help teams submit PTO requests from home, complete checklists on the job, and more. Completed forms can be submitted digitally and instantly shared.
Documents
Make it easier and faster for managers to share the most up-to-date work documents with their teams in a secure, accessible folder structure.
Increase alignment and productivity
Help distributed teams find the right document every time
Global oversight and local ownership combine to ensure content relevance and structural simplicity
Keep everything in one place
Save time: Your teams know where to look for the most up-to-date information
Prevent employees from sharing sensitive documents ad-hoc via Dropbox, Google Docs or private messaging apps
Relevant information and easy reading
Your employees can access important information via Documents anytime, anywhere on their mobile devices
Documents on Beekeeper are easier to read in pinch-and-zoom viewing mode
Analytics Dashboard
Measure the effectiveness of your internal communication strategy using powerful reports.
Track engagement
Get a real-time view of employee engagement and app usage
Work toward your communication goals
Measure internal communication KPIs
Make data-driven decisions
Analyze survey responses to make impactful changes
Manage Content Across Locations
Scale Beekeeper for your company with Locations.
Scale your communication
Add more locations and levels of administration as your company grows
Empower team and location leadership
Give line managers the access they need to lead their teams
Increase engagement
Share relevant information with local teams
Tasks
Create to-do lists or manage assigned tasks on-the-go with mobile-first task management.
Create your own tasks
Create a to-do list by adding new items directly, or adding Tasks from chat messages. Link forms, checklists, documents, or images to provide more information.
Assign tasks or manage assignments
Add assignees and due dates. Assignees will see assigned tasks in Beekeeper, and managers can track progress for their team.
Access tasks fast
View your task list on web or on mobile in the Toolbox or on Home.